STAY Well teepuu näotoonik tasakaalustab naha toimimist, säilitades selle normaalse pH taseme (5,0 ~ 5,9). Looduslikud ekstraktid niisutavad, värskendavad, rahustavad ja taastavad kauni jume. Teepuu on antibakteriaalse ja nahka rahustava toimega, sobib ideaalselt aknelise naha igapäevaseks nahahoolduseks. Bambuseekstrakt lisab kohest niisutust, ennetades naha liigset kuivamist.

KASUTAMINE: Toonikut kasutatakse esimese hooldusena peale näopuhastust. Kanda näole õrnalt masseerides, kuni toonik on sisse imbunud. Pärast toonikut soovitame kasutada seerumit, emulsiooni või näokreemi.

KOGUS: 210 ml
*VEGAN *CRUELTY-FREE *MADE IN KOREA *FREE OF PARABENS *ALCOHOL-FREE *FREE OF SULFATES *FREE OF CMR SUBTANCE
Peamised toimeained:
Teepuuõli 0,15% koos antimikroobse, põletikuvastase ja bakterivastase toimega, sobib ideaalselt akne raviks.
Bambus niisutab, värskendab ja lõõgastab nahka. Aitab säilitada naha niiskustasakaalu. Taastab naha pehmuse, elastuse ja sära.
Aqua (Water), Glycerin, Caprylic/Capric Triglyceride, Cetearyl Alcohol, Phenyl Trimethicone, 1,2-Hexanediol, Glyceryl Stearate, Butylene Glycol, Bambusa Vulgaris (Bamboo) Water, Melaleuca Alternifolia (Tea Tree) Extract, Cetearyl Glucoside, Carbomer, Sorbitan Olivate, Sodium Polyacrylate, Ethylhexyl Stearate, Tromethamine, Panthenol, PEG-60 Hydrogenated Castor Oil, Ethylhexylglycerin, Trideceth-6, Disodium EDTA, Phyllostachys Nigra Leaf Extract, Melaleuca Alternifolia (Tea Tree) Leaf Oil, Rosmarinus Officinalis (Rosemary) Leaf Extract, Lavandula Angustifolia (Lavender) Flower Extract, Mentha Piperita (Peppermint) Leaf Extract, Monarda Didyma Leaf Extract, Chamomilla Recutita (Matricaria) Flower Extract, Freesia Refracta Extract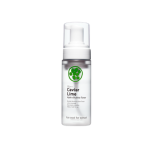 Tootekood:
12470 ,
Laoseis:
Laos
29,90 €
Tootekood:
11833 ,
Laoseis:
Laos
18,90 €
Tootekood:
11298 ,
Laoseis:
Laos
11,90 €