Tõhus hooldus probleemsele nahale. Rikkaliku ja pehme tekstuuriga kreem imendub kiiresti, jätmata nahka rasuseks. Teepuuõli leevendab ja rahustab ärritunud nahka. Kreem sobib akne hoolduseks kuna on antibakteriaalse ja rahustava toimega. Ennetab liigse rasu tootmist samaaegselt niisutades nahka ja taastades kaunis jume.
Kasutamine: Kandke nahale pärast tooniku kasutamist. Masseerige kergelt kuni kreemi imendumiseni. Kreem sobib kasutamiseks nii hommikul kui ka õhtul.
Kogus: 50ml
*VEGAN *CRUELTY-FREE *MADE IN KOREA *FREE OF PARABENS *ALCOHOL-FREE *FREE OF SULFATES *FREE OF CMR SUBTANCE
Peamised toimeained:
Teepuuõli 0,15% koos antimikroobse, põletikuvastase ja bakterivastase toimega, sobib ideaalselt akne raviks.
Bambus niisutab, värskendab ja lõõgastab nahka. Aitab säilitada naha niiskustasakaalu. Taastab naha pehmuse, elastuse ja sära.
Aqua (Water), Butylene Glycol, Glycerin, Caprylic/Capric Triglyceride, Cetearyl Trimethicone, Phenyl Trimethicone, 1,2-Hexanediol, Glyceryl Stearate, Butyrospermum Parkii (Shea) Butter, Cetearyl Glucoside, Sorbitan Olivate, Sodium Polyacrylate, Ethylhexyl Stearate, Melaleuca Alternifolia (Tea Tree) Leaf Oil, Limonene*, Carbomer, Tromethamine, Panthenol, Ethylhexylglycerin, Trideceth-6, Disodium ETA, Phyllostachys Nigra (Black Bamboo) Leaf Extract, Bambusa Vulgaris (Bamboo) Water, Rosmarinus Officinalis (Rosemary) Leaf Extract, Lavandula Angustifolia (Lavender) Flower Extract, Mentha Piperita (Peppermint) Leaf Extract, Monarda Didyma (Bergamot) Leaf Extract, Chamomilla Recutita (Matricaria) Flower Extract, Melaleuca Alternifolia (Tea Tree) Leaf Extract, Freesia Refracta Extract. *Occurs as a natural ingredient of tea tree oil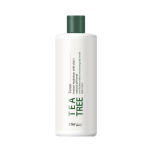 Tootekood:
12472 ,
Laoseis:
Laos
14,90 €