Best seller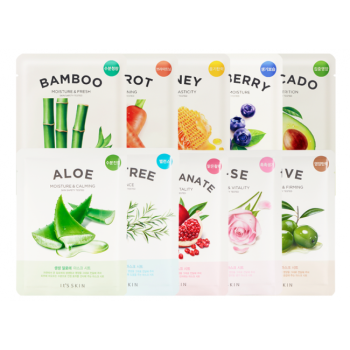 Zoom
Peotäis elujõudu andvaid mustikaid, tibake kirgastavat granaatõuna, tilgake niisutavat oliivõli ja sortuske imelist aaloed. Mis on ilu saladus number üks? Niisutamine! Loomulikult on oluline juua iga päev 1,5 liitrit vett, ent teha saab rohkemat. Oluline on kasutada ka toitvaid nahahooldustooteid.
It'S SKIN The Fresh kangasmask on ideaalne abiline taastamaks naha tasakaalu, lisades nahale toonust, sära ja elujõudu, luues samal ajal ka tõelise värskustunde. Nahk on juba mõnekümne minutiga pikaks ajaks niisutatud.Aitab unustada väsimuse ning vabastada kortse tekitavad pinged Su näos.Ideaalne toode, mis tagab optimaalse niisutatuse!
It'S SKIN The Fresh kangasmaskid sobivad igale nahatüübile ja nahaprobleemile! Kangas on immutatud nahale kasulike looduslike aktiivainetega, mis suudavad imenduda sügavamatesse nahakihtidesse, lisades nahale toonust, niisutust, pehmust, sära ning elujõudu, et paremini toime tulla väliskeskkonna kahjulike teguritega.
Komplekt sisaldab 10 erinevat The Fresh maski: oliiv- toitev ja pinguldav, teepuu- tasakaalustav, granaatõun- puhastav, aaloe- rahustav, roos ja mustikas- elujõudu andev, avokaado- toitev, porgand- kirgastav, bambus- niisutav, mesi- toniseeriv. Igaühele midagi!
1. Puhastage nägu ja asetage kangasmask ühtlaselt näole;
2. Hoidke maski näol 10-20 minutit ja seejärel eemaldage õrnalt;
3. Masseerige õrnalt, kuni nahale jäänud toimeaine on täielikult imendunud.
Kogus:10tk
TEA TREE Ingredients: Aqua, Dipropylene Glycol, Methylpropanediol, Glycerin, Propanediol, PEG-75, Alcohol, Butylene Glycol, Melaleuca Alternifolia (Tea Tree) Leaf Extract, Disodium EDTA, Xanthan Gum, Chlorphenesin, PEG-60 Hydrogenated Castor Oil, Glycyrrhiza Glabra (Licorice) Root Extract, Zingiber Officinale (Ginger) Root Extract, Schisandra Chinensis Fruit Extract, Coptis Japonica Root Extract, Camellia Sinensis Leaf Extract, Caprylyl Glycol, 1,2-Hexanediol, Citrus Grandis (Grapefruit) Seed Extract, Acorus Calamus Root Extract, Perilla Ocymoides Leaf Extract, Parfum, Limonene
BAMBOO Ingredients: Aqua, Dipropylene Glycol, Glycerin, Glycereth-26, Propanediol, PEG-75, Butylene Glycol, Alcohol, Bambusa Vulgaris Water, Disodium EDTA, Dipotassium Glycyrrhizate, Hydroxyethylcellulose, Carbomer, Xanthan Gum, Triethanolamine, Chlorphenesin, PEG-60 Hydrogenated Castor Oil, Glycyrrhiza Glabra (Licorice) Root Extract, Zingiber Officinale (Ginger) Root Extract, Schisandra Chinensis Fruit Extract, Coptis Japonica Root Extract, Camellia Sinensis Leaf Extract, Caprylyl Glycol, 1,2-Hexanediol, Citrus Grandis (Grapefruit) Seed Extract, Acorus Calamus Root Extract, Perilla Ocymoides Leaf Extract, Parfum, Limonene
ALOE Ingredients: Aqua, Dipropylene Glycol, Methylpropanediol, Glycerin, Propanediol, PEG-75, Alcohol, Butylene Glycol, Aloe Barbadensis Leaf Extract, Disodium EDTA, Xanthan Gum, Chlorphenesin, PEG-60 Hydrogenated Castor Oil, Glycyrrhiza Glabra (Licorice) Root Extract, Zingiber Officinale (Ginger) Root Extract, Schisandra Chinensis Fruit Extract, Coptis Japonica Root Extract, Camellia Sinensis Leaf Extract, Caprylyl Glycol, 1,2-Hexanediol, Citrus Grandis (Grapefruit) Seed Extract, Acorus Calamus Root Extract, Perilla Ocymoides Leaf Extract, Parfum
CARROT Ingredients: Aqua, Dipropylene Glycol, Glycerin, Glycereth-26, Propanediol, PEG-75, Butylene Glycol, Alcohol, Daucus Carota Sativa (Carrot) Root Extract, Disodium EDTA, Dipotassium Glycyrrhizate, Hydroxyethylcellulose, Carbomer, Xanthan Gum, Triethanolamine, Chlorphenesin, PEG-60 Hydrogenated Castor Oil, Glycyrrhiza Glabra (Licorice) Root Extract, Zingiber Officinale (Ginger) Root Extract, Schisandra Chinensis Fruit Extract, Coptis Japonica Root Extract, Camellia Sinensis Leaf Extract, Caprylyl Glycol, 1,2-Hexanediol, Citrus Grandis (Grapefruit) Seed Extract, Acorus Calamus Root Extract, Perilla Ocymoides Leaf Extract, Parfum
POMEGRANATE Ingredients: Aqua, Dipropylene Glycol, Glycereth-26, Glycerin, Methylpropanediol, Propanediol, Butylene Glycol, Olive Oil PEG-8 Esters, Punica Granatum Fruit Extract, Caprylic/Capric Triglyceride, Xanthan Gum, Chondrus Crispus Extract, Carbomer, Hydroxyethylcellulose, Allantoin, Dipotassium Glycyrrhizate, Disodium EDTA, Triethanolamine, PEG-60 Hydrogenated Castor Oil, Chlorphenesin, Citrus Grandis (Grapefruit) Seed Extract, Acorus Calamus Root Extract, Perilla Ocymoides Leaf Extract, Polysorbate 60, 1,2-Hexanediol, Caprylyl Glycol, Glycyrrhiza Glabra (Licorice) Root Extract, Schisandra Chinensis Fruit Extract, Coptis Japonica Root Extract, Zingiber Officinale (Ginger) Root Extract, Camellia Sinensis Leaf Extract, Parfum
ROSE Ingredients: Aqua, Dipropylene Glycol, Glycereth-26, Glycerin, Methylpropanediol, Propanediol, Butylene Glycol, Olive Oil PEG-8 Esters, Rosa Centifolia Flower Extract, Caprylic/Capric Triglyceride, Xanthan Gum, Chondrus Crispus (Carrageenan) Extract, Carbomer, Hydroxyethylcellulose, Allantoin, Dipotassium Glycyrrhizate, Disodium EDTA, Triethanolamine, PEG-60 Hydrogenated Castor Oil, Chlorphenesin, Citrus Grandis (Grapefruit) Seed Extract, Acorus Calamus Root Extract, Perilla Ocymoides Leaf Extract, Polysorbate 60, 1,2-Hexanediol, Caprylyl Glycol, Glycyrrhiza Glabra (Licorice) Root Extract, Schisandra Chinensis Fruit Extract, Coptis Japonica Root Extract, Zingiber Officinale (Ginger) Root Extract, Camellia Sinensis Leaf Extract, Parfum, Citronellol, Geraniol
HONEY Ingredients: Aqua, Dipropylene Glycol, Glycerin, Glycereth-26, Propanediol, Honey Extract, Sodium Hyaluronate, Panthenol, Disodium EDTA, Hydroxyethylcellulose, Carbomer, Triethanolamine, Cyclopentasiloxane, Cyclohexasiloxane, PEG-10 Dimethicone/Vinyl Dimethicone Crosspolymer, Chlorphenesin, PEG-60 Hydrogenated Castor Oil, Glycyrrhiza Glabra (Licorice) Root Extract, Zingiber Officinale (Ginger) Root Extract, Schisandra Chinensis Fruit Extract, Coptis Japonica Root Extract, Camellia Sinensis Leaf Extract, Caprylyl Glycol, 1,2-Hexanediol, Citrus Grandis (Grapefruit) Seed Extract, Acorus Calamus Root Extract, Perilla Ocymoides Leaf Extract, Parfum, Coumarin, Benzyl Benzoate
BLUEBERRY Ingredients: Aqua, Glycerin, Dipropylene Glycol, Glycereth-26, Propanediol, Olive Oil PEG-8 Esters, Caprylic/Capric Triglyceride, Butylene Glycol, Vaccinium Angustifolium (Blueberry) Fruit Extract, Disodium EDTA, Carbomer, Triethanolamine, Sorbitan Sesquioleate, Polysorbate 60, Cyclopentasiloxane, Cyclohexasiloxane, Xanthan Gum, Chlorphenesin, PEG-60 Hydrogenated Castor Oil, Glycyrrhiza Glabra (Licorice) Root Extract, Zingiber Officinale (Ginger) Root Extract, Schisandra Chinensis Fruit Extract, Coptis Japonica Root Extract, Camellia Sinensis Leaf Extract, Caprylyl Glycol, 1,2-Hexanediol, Citrus Grandis (Grapefruit) Seed Extract, Acorus Calamus Root Extract, Perilla Ocymoides Leaf Extract, Parfum, Benzyl Benzoate
AVOCADO Ingredients: Aqua, Glycerin, Dipropylene Glycol, Glycereth-26, Propanediol, Olive Oil PEG-8 Esters, Caprylic/Capric Triglyceride, Butylene Glycol, Persea Gratissima (Avocado) Oil, Disodium EDTA, Carbomer, Triethanolamine, Sorbitan Sesquioleate, Polysorbate 60, Cyclopentasiloxane, Cyclohexasiloxane, Xanthan Gum, Chlorphenesin, PEG-60 Hydrogenated Castor Oil, Glycyrrhiza Glabra (Licorice) Root Extract, Zingiber Officinale (Ginger) Root Extract, Schisandra Chinensis Fruit Extract, Coptis Japonica Root Extract, Camellia Sinensis Leaf Extract, Caprylyl Glycol, 1,2-Hexanediol, Citrus Grandis (Grapefruit) Seed Extract, Acorus Calamus Root Extract, Perilla Ocymoides Leaf Extract, Parfum, Linalool, Limonene
OLIVE Ingredients: Aqua, Glycerin, Dipropylene Glycol, Caprylic/Capric Triglyceride, Methylpropanediol, Propanediol, Olea Europaea (Olive) Fruit Oil, Butylene Glycol, Disodium EDTA, Panthenol, Hydroxyethylcellulose, Polysorbate 60, Carbomer, Triethanolamine, Sodium Hyaluronate, Glyceryl Stearate, Chlorphenesin, Glycyrrhiza Glabra (Licorice) Root Extract, 1,2-Hexanediol, Caprylyl Glycol, Schisandra Chinensis Fruit Extract, Coptis Japonica Root Extract, Zingiber Officinale (Ginger) Root Extract, Camellia Sinensis Leaf Extract, Citrus Grandis (Grapefruit) Seed Extract, Acorus Calamus Root Extract, Perilla Ocymoides Leaf Extract, Tocopheryl Acetate, Parfum