Big and important day ahead? Achieve flawless-looking skin with the When Glamor Base Fabric Mask.
If you want your makeup to look flawless and last for a long time, prepare your skin with a When Glamour Base fabric mask that leaves your skin feeling healthy and soft. The mask contains adenosine and collagen, which prevents and smoothes wrinkles, makes the skin smoother and younger.
When's fabric of the mask is made of coconut, a biodegradable and environmentally friendly material that is particularly soft on your skin. The lightweight and transparent fabric mask "blends in" perfectly with the face shape, which ensures ideal absorption of the active ingredients. The fabric is impregnated with nourishing serum enriched with peptides, collagen, adenosine, hyaluronic acid and ginseng.

How to use: 1. Clean and dry face. 2. Open the pouch and unfold the fabric mask. Remove film. 3. Adjust sheet mask evenly on your face, smoothing the mask top to bottom. 4. Remove mask after 30 minutes and massage remaining serum on to your face and neck.
***The mask is for single use immediately after opening the package.
Size: 23ml
Main active ingredients:
HYDROLYZED COLLAGEN- Hydrolyzed collagen is similar to the structure of collagen in the human body, which is small molecule and has the ability to penetrate deeper layers of the skin. Prevents and smooths existing wrinkles. Restores elasticity, making skin smoother and younger.
ADENOSINE- Adenosine is widely used in skin rejuvenation cosmetics, slowing down the aging process of the skin.
SODIUM HYALURONATE- Hyaluronic acid is a naturally occurring acid in the skin that makes the skin smooth and wrinkle-free. Hyaluronic acid protects the skin from the damaging effects of free radicals and stimulates skin renewal processes. As you age, the amount of hyaluronic acid in the skin decreases, wrinkles appear, the skin becomes drier and loses its youthful tone and elasticity. Hyaluronic acid reduces moisture evaporation in the skin, promotes the synthesis of collagen and elastin, and protects the skin from UV radiation.
PANAX GINSENG EXTRACT - Ginseng tones and revitalizes skin, regulates sebum secretion. Ginseng contains phytonutrients that stimulate blood circulation and help fight aging. Jojoba Oil moisturizes and softens the skin, slows down skin aging by absorbing into deeper layers of the skin.
Aqua (Water) , Butylene Glycol, Glycerin, Polyacrylate-13, Bambusa Textilis Stem Extract, Citrus Grandis (Grapefruit) Seed Extract, Pinus Palustris Leaf Extract, Caprylyl Glycol, Polyisobutene, Ethylhexylglycerin, Alcohol, Adenosine, 1,2-Hexanediol, Polysorbate 20, Sorbitan Isostearate, Phenoxyethanol, Sodium Hyaluronate, Hydrolyzed Collagen , Disodium EDTA, Palmitoyl Tripeptide-5, Colloidal Platinum, Panax Ginseng Extract, Parfum (Fragrance), Limonene, Linalool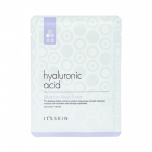 Item:
11395 ,
Qty:
In Stock
2,20 €