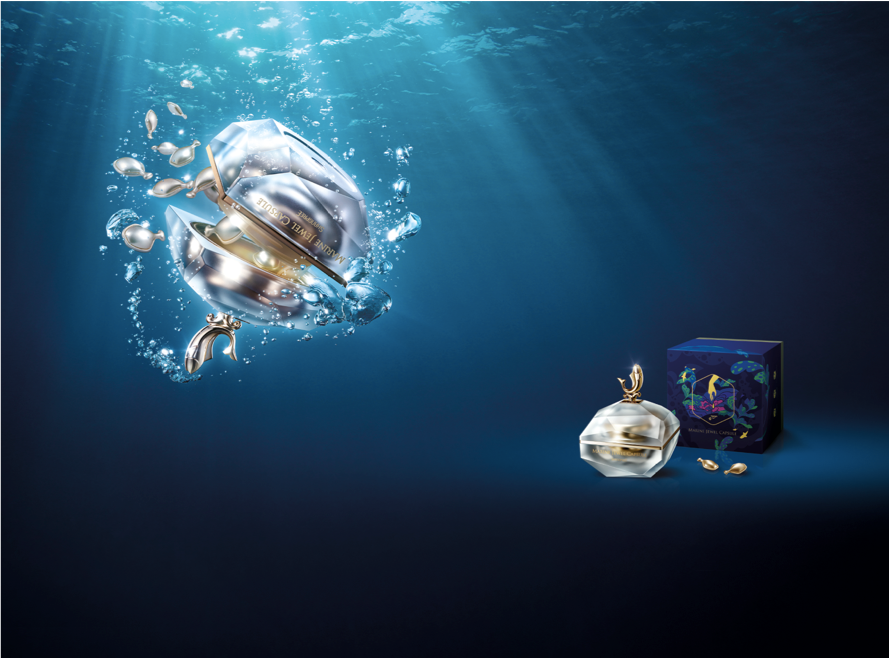 Shangpree releases their most luxurious product yet! With this Marine Jewel Capsule, Shangpree has harnessed the power of the ocean to bring you this decadent ampoule that replenishes skin, reinforcing the skin's natural barrier and bringing out its radiance. These individual capsules are packed with beneficial algae extracts that help fight visible signs of aging with potent antioxidants, sea whip extract that helps soothe skin, and ecklonia cava (brown algae) extract that helps soothe irritated skin, fight inflammation, and prevent acne with its antibacterial properties. Olive oil, macadamia oil, and avocado oil bring rich, deep hydration that softens and moisturizes skin.

The true star ingredient in this Marine Jewel Capsule, though, is an ingredient called Sodium DNA. Derived from DNA extracted from salmon sperm, this ingredient is currently the trending ingredient in Korea, heralded for its ability to encourage cell repair and regeneration, which strengthens skin and gives it back its elasticity and brightness. Sodium DNA also helps protect skin from the damaging effects of harmful UV rays and fights the formation of wrinkles. Don't let all this marine life talk make you think this product will leave you smelling briny or fishy, though. Camellia oil and evening primrose oil mean that this ampoule smells brightly floral, and the rich oil-like texture sinks into skin, drenching it with all this goodness from the ocean to bring out skin's natural radiance.
Details: THE MUST KNOW:
1. Sodium DNA is made from DNA extracted from salmon sperm; to be clear, it is not salmon sperm itself. It has potent regenerative qualities, working not on the superficial level but sinking deeply into skin to work from within, encouraging cell turnover that, in turn, helps firm skin and maintain its elasticity. It also helps protect skin from the harmful effects of UV rays, helping to prevent skin damage and the formation of wrinkles.
2. Royal jelly comes from bees. Secreted by worker bees for queen bees so that queen bees can thrive, it's full of rich ingredients that benefit skin, from amino acids that help keep skin firm to lipids that hydrate and reduce inflammation.
3. Phytosphingosine is a fatty alcohol found in the skin barrier that helps optimize skin to be replenished and restored by beneficial ingredients. It is a part of the body's natural defense system, helping to fight bacteria and prevent acne.
How to use: After cleansing, toning, and applying essence, twist the top off a capsule and squeeze contents onto clean hands. Apply evenly to face and neck. Use daily or a few times a week on those days your skin is craving a luxurious boost.
Size: 12ml x 30 capsules
Cyclopentasiloxane, Dimethicone, Tocopheryl Acetate, Olea Europaea (Olive) Fruit Oil, Camellia Japonica Seed Oil, Macadamia Ternifolia Seed Oil, Oenothera Biennis (Evening Primrose) Oil, Persea Gratissima (Avocado) Oil, Spirulina Platensis Extract, Hizikia Fusiforme Extract, Pearl Extract, Sea Whip Extract, Sodium DNA, Algae Extract, Oyster Extract, Chitosan, Ecklonia Cava Extract, Plankton Extract, Royal Jelly Extract, Propolis Extract, Hydrogenated Phosphatidylcholine, Ceramide 3(Ceramide NP), Phytosphingosine, Glycosphingolipids, Caprylic/Capric Triglyceride, Hexyl Laurate, Stearic Acid, Disodium EDTA, Butylene Glycol, Glycerin, Cholesterol, Water, Sucrose Stearate, Ethylhexylglycerin, 1,2-Hexanediol, Fragrance