Broccoli: This natural coconut gel mask with broccoli extract conditions the skin leaving it fresh and glowing. Vitamin C and Beta-Carotene rich broccoli extract softens and soothes the skin, rejuvenating it's youthful appearance. Broccoli extract protects skin from harmful environmental irritants while clearing pores and maintaining a clean and fresh complexion.
Orange: This natural coconut gel mask with orange extract brightens the skin and improves skin texture by cleansing and tightening the pores. Orange extract is abundant in Vitamin C which boosts collagen and brightens skin, while AHA improves texture by exfoliating.
Blueberry: Want fresh and glowing skin? The Blueberry Superfood Mask is packed with antioxidants and vitamins to deeply hydrate and strengthen your skin's barrier! Bursting with antioxidants and vitamins, blueberry extract deeply hydrates and strengthens the skin barrier, giving it a fresh and glowing look. Blueberry extract contains Anthocyanin, minerals, and vitamins that repair the skin's moisture barrier, locking moisture in and keeping environmental irritants out, while nourishing and hydrating the skin.
Tomato: This natural coconut gel mask with tomato extract keeps the skin youthful by strengthening the protective barrier of the skin. Tomato extract is bursting with the powerful antioxidant Lycopene, which helps the skin remain youthful by restoring elasticity and resilience.
How to use: Apply to a freshly cleansed face. Remove mask from packaging and peel off protective film from one side. Attach mask to the face and remove the outer protective film. For best results, leave the mask on for 20-25 minutes before removing. Gently massage the excess serum into face and neck until fully absorbed.
Size: 4x30ml
Broccoli: Water, Methylpropanediol, Butylene Glycol, Chamomilla Recutita (Matricaria) Flower Extract, Dipropylene Glycol, Lactobacillus/Leuconostoc/Brassica Oleracea Italica (Broccoli) Extract, 1,2-Hexanediol, Lactobacillus/Leuconostoc/Cocos Nucifera (Coconut) Fruit Extract, Portulaca Oleracea Extract, Acer Saccharum (Sugar Maple) Extract, Glycerin, Hydroxyethyl, Acrylate/Sodium Acryloyldimethyl Taurate Copolymer, Betaine, Xanthan Gum, Caprylyl Glycol, Ethylhexylglycerin, Fragrance, Polysorbate 60, Sorbitan Isostearate, Artemisia Capillaris Flower Extract, Ecklonia Cava Extract, Houttuynia Cordata Extract, Ledum Palustre Extract, Saururus Chinensis Extract, Achillea Millefolium Extract, Arnica Montana Flower Extract, Artemisia Absinthium Extract, Gentiana Lutea Root Extract
Orange: Water, Methylpropanediol, Butylene Glycol, Chamomilla Recutita (Matricaria) Flower Extract, Dipropylene Glycol, Lactobacillus/Leuconostoc/Citrus Aurantium Dulcis (Orange) Fruit Extract, 1,2-Hexanediol, Lactobacillus/Leuconostoc/Cocos Nucifera (Coconut) Fruit Extract, Portulaca Oleracea Extract, Acer Saccharum (Sugar Maple) Extract, Glycerin, Hydroxyethyl Acrylate/Sodium Acryloyldimethyl Taurate Copolymer, Betaine, Xanthan Gum, Fragrance, Ethylhexylglycerin, Caprylyl Glycol, Sorbitan Isostearate, Polysorbate 60, Saururus Chinensis Extract, Ledum Palustre Extract, Houttuynia Cordata Extract, Ecklonia Cava Extract, Artemisia Capillaris Flower Extract, Gentiana Lutea Root Extract, Artemisia Absinthium Extract, Arnica Montana Flower Extract, Achillea Millefolium Extract
Tomato: Aqua (Water), Methylpropanediol,lButylene Glycol, DipropylenelGlycol, 1, 2-Hexanediol,lAcer Saccharum (SugariMaple), Solanum Lycopersicuml(Tomato) Fruit Extract,iChamomilla Recutita (Matricaria)lFlower Extract, PortulacaiOlercea Extract, CocosiNucifera (Coconut) FruitlExtract, Glycerin, HydroxyethyliAcrylate/Sodium Acryloyldimethyl TauratelCopolymer, Betaine, CaprylyliGlycol, Ethylhexylglycerin, XanthaniGum, Polysorbate 60,iSorbitan Isostearate, ArtemisiaiCapillaris Flower Extract,lEcklonia Cava Extract,lHottuynia Cordata Extract,iSaururus Chinesis Extract,lAchillea Millefolium Extract,lArnica Montana FlowerlExtract, Artemisia AbsinthiumiExtract, Gentiana LutealRoot Extract, Parfumi(Fragrance)
Blueberry: Aqua (Water), Methylpropanediol,iButylene Glycol, DipropylenelGlycol, 1, 2-Hexanediol,iAcer Saccharum (SugariMaple), Vaccinium Angustifoliumi(Blueberry) Fruit Extract,lChamomilla Recutita (Matricaria)lFlower Extract, PortulacaiOlercea Extract, CocoslNucifera (Coconut) FruitlExtract, Glycerin, HydroxyethyllAcrylate/Sodium Acryloyldimethyl TauratelCopolymer, Betaine, CaprylyllGlycol, Ethylhexylglycerin, XanthaniGum, Polysorbate 60,lSorbitan Isostearate, ArtemisialCapillaris Flower Extract,iEcklonia Cava Extract,iHottuyniaCordata Extract,lSaururus Chinesis Extract,iAchillea Millefolium Extract,lArnica Montana FlowerlExtract, Artemisia AbsinthiumlExtract, Gentiana LuteaiRoot Extract, Parfuml(Fragrance)
Best seller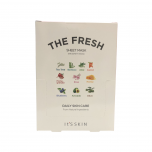 Item:
40007 ,
Qty:
In Stock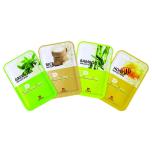 Item:
40018 ,
Qty:
In Stock