Best seller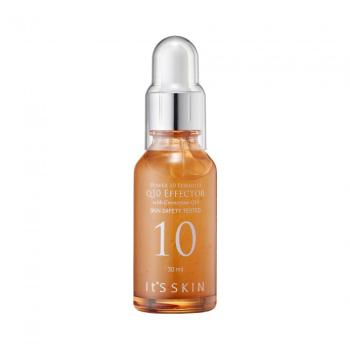 Zoom
A rejuvenating skin serum created for maturing skin. Created to tackle some of the most common concerns of aging skin, the It's Skin Power 10 Formula Q10 Effector works effectively to give visible results. Bolstered with a blend of carefully chosen ingredients, this unique, ultra-lightweight formula helps to boost collagen and elastin levels whilst providing much-needed moisture for a rejuvenated, youthful finish. Coenzyme Q10 - reinforces the skin's resilience.
Main active ingredients:
Q10 is a tiny molecule that easily enters the skin cells, contributes to the synthesis of collagen and elastin

. Activates oxygen metabolism in skin cells, reducing the harmful effects of free radicals and preventing premature aging of the skin.Strengthens skin resistance to adverse effects of the external environment.
How to use: Apply 2-3 drops of fountain filler to clean face. Gently pat into skin until fully absorbed. Follow up with moisturizer of choice.


Each one is formulated with specific ingredients designed to tackle a distinct skin concern, such as hyperpigmentation, discoloration, oily skin, large pores, skin aging, etc. Below is a chart with more information on each effector.
About serums:
Serums are skin care products that are effective due to their high concentration of active ingredients. Due to the high concentration of active ingredients, it is common for serum to contain only a few active ingredients that intensively nourish deep skin layers.The texture of the serum is oil-free, allowing them to penetrate the skin's top layers. The skin does not become greasy and therefore also allows for post-serum cream application if desired. Your skin does not necessarily need to be creased after using the serum. Because the serum contains a lot of active ingredients, the use of serum results in more visible results compared to conventional moisturizers or other cosmetic products.
Water, Butylene Glycol, Glycerin, Polyglutamic Acid, Astaxanthin, Pseudoalteromonas Ferment Extract, Dipropylene Glycol, Lactose, Ethyl Hexanediol, Carbomer, Triethanolamine, Ethylhexylglycerin, Tocopheryl Acetate, Cellulose, Fragrance, Disodium Edta, Ubiquinone, Ceramide 3, Cholesterol, Hydroxypropyl Methylcellulose, Iron Oxides (Ci 77492), Bht, Caprylic/Capric Triglyceride, Phospholipids