Best seller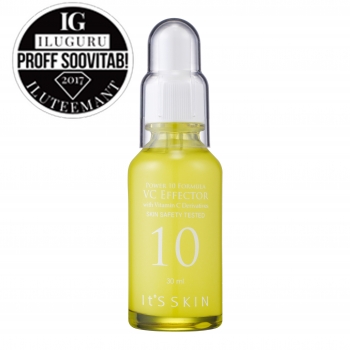 Zoom
Best before: 27.11.2022
Developed with a nourishing blend of vitamins and antioxidants, the It's Skin Power 10 Formula VC Effector promotes a glowing, healthy complexion. This ultra-lightweight serum absorbs quickly into the skin, enriched with vitamin C and green tea extract to brighten skin, lighten freckles and enhancing collagen synthesis to fill in wrinkles. Vitamin C and green tea extract – brighten and smooth the skin.
How to use: Apply 2-3 drops of fountain filler to clean face. Gently pat into skin until fully absorbed. Follow up with moisturizer of choice.

Main active ingredients:

Vitamin C is an effective antioxidant that helps keep your skin soft, smooth, supple and healthy. Skin connective tissue, including collagen creation, is vitamin C dependent, no new collagen can be produced without ascorbic acid. Helps reduce skin color changes due to pigmentation.
Green tea contains many vitamins like B, C and E. Green tea is known for its antibacterial and antioxidant effect.
There are 13 highly concentrated effectors (serums). Each one is formulated with specific ingredients designed to tackle a distinct skin concern, such as hyperpigmentation, discoloration, oily skin, large pores, skin aging, etc. Below is a chart with more information on each effector.
About serums:
Serums are skin care products that are effective due to their high concentration of active ingredients. Due to the high concentration of active ingredients, it is common for serum to contain only a few active ingredients that intensively nourish deep skin layers.The texture of the serum is oil-free, allowing them to penetrate the skin's top layers. The skin does not become greasy and therefore also allows for post-serum cream application if desired. Your skin does not necessarily need to be creased after using the serum. Because the serum contains a lot of active ingredients, the use of serum results in more visible results compared to conventional moisturizers or other cosmetic products.
Size: 30 ml
Water Butylene Glycol Glycerin Polyglutamic Acid Peg-60 Hydrogenated Castor Oil Ascorbyl Tetraisopalmitate Carbomer Methylparaben Triethanolamine Acrylates/C10-30 Alkyl Acrylate Crosspolymer Camellia Sinensis Leaf Extract Chlorphenesin Fragrance Disodium Edta.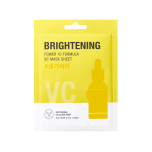 Item:
1001200203 ,
Qty:
In Stock
3,99 €