BANILA CO Chom Chom Castella Puff 6 pcs
These elastic puffs help evenly distribute makeup, ensuring smooth and flawless finish. They ensure a streak-free finish with buildable coverage even on hard to reach areas.
How to use: Use the trapezoid side for building coverage. Use the rectangle side for blending the foundation over the entire face.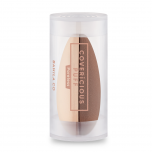 Item:
B-AMTL10-064A ,
Qty:
In Stock
9,90 €