A mild, gel cleanser that is hypo-allergenic and also normalizes the pH balance while relieving skin irritations and helping to maintain healthy skin.

This gentle cleanser uses surfactants of natural origins to minimize the chances of irritation. And, it contains Panthenol to help maintain moisture.

It does not contain those ingredients that are known irritants…fragrances, colorants, Ethanol, Parabens, Phenoxyethanol, Mineral Oil, Propylene Glycol, PEG, Sulfates and Soaps.

What it does contain are ingredients that actually function to improve the condition of the skin, such as: Surfactants of Natural Origin that are sourced from plants to help minimize skin irritations.

Panthenol to help maintain moisture.

Zinc PCA helps slow down sebum production to minimize skin irritations.

Isopropylmethylphenol which helps protect skin from outside irritants.

DERMATOLOGIST TESTED.

CAUTION: For external use only. Discontinue use if adverse reaction occurs. Contact a physician if symptoms persist. Keep out of reach of children. Store at room temperature.
Size: 180 ml

Water/Aqua, Glycerin, Disodium cocoyl glutamate, Lauryl hydroxysultaine, Coco-glucoside, Propanediol, Sodium methyl cocoyl taurate, Hydrolyzed hyaluronic acid, Sodium lactate, Sodium gluconate, Zinc PCA, Sodium chloride, Sodium phytate, Citric acid, o-Cymen-5-ol, 1,2-Hexanediol, Caprylyl glycol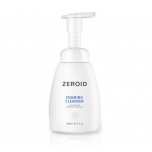 Item:
70634 ,
Qty:
In Stock
18,90 €