5 Vegan Sheet masks: Aloe Vera – Blueberry – Pineapple – Pomegranate– Watermelon
STAY Well Aloe Vera Sheet Mask - Moisturizing & Relaxing: Aloe and Cica Extracts provide moisture and relaxation for younger, fresher skin.
STAY Well Blueberry Sheet Mask - Energizing & Purifying: Rich in anti-oxidant properties that purify and revitalize your skin. With blueberry extract and vitamin B.
STAY Well Pineapple Sheet Mask - Brightening & Smoothing: A unique blend of concentrated pineapple extract and aloe extract to provide immediate smoothness and radiance.
STAY Well Pomegranate Sheet Mask - Hydrating & Firming: Contains pomegranate extract and soluble collagen for firm, youthful skin.
STAY Well Watermelon Sheet Mask - Hydrating & Soothing: The fusion of watermelon extract and Litchi extract has a strong hydrating and soothing effect.
2. Relax for 15-20 minutes. Remove the mask gently and discard.
3. Gently tap extra active ingredients into your skin to achieve optimal results.
Recommended for us up to 2-3 times per week. Use mask immediately after opening the pouch.
*VEGAN *CRUELTY-FREE *FREE OF ESSENTIAL OILS *FREE OF NANOPARTICLES & MICROPLASTICS *FREE OF SILICONE, PARABENES & PEG *MADE IN KOREA
Aloe: Aqua (Water), Glycerin, Methylpropanediol, Allantoin, Betaine, Salvia Officinalis (Sage) Leaf Extract, Lavandula Angustifolia (Lavender) Flower Extract, Rosmarinus Officinalis (Rosemary) Extract, Chamomilla Recutita (Matricaria) Flower Extract, Cymbopogon Schoenanthus Extract, Rubus Idaeus (Raspberry) Fruit Extract, Rubus Fruticosus (Blackberry) Fruit Extract, Euterpe Oleracea Fruit Extract, Vaccinium Myrtillus Fruit Extract, Vaccinium Macrocarpon (Cranberry) Fruit Extract, Ribes Nigrum (Black Currant) Fruit Extract, Vaccinium Angustifolium (Blueberry) Fruit Extract, Aloe Barbadensis (Aloe Vera) Leaf Extract, Centella Asiatica Extract, Camellia Sinensis Leaf Extract, Cannabis Sativa Seed Oil, Tocopheryl Acetate, Ascorbic Acid, Sodium Citrate, Polyglyceryl-4 Caprate, Hydroxyethylcellulose, 1,2-Hexanediol, Hydroxyacetophenone, Disodium EDTA, Parfum
Blueberry: Aqua (Water), Glycerin, Methylpropanediol, Salvia Officinalis (Sage) Leaf Extract, Lavandula Angustifolia (Lavender) Flower Extract, Rosmarinus Officinalis (Rosemary) Extract, Chamomilla Recutita (Matricaria) Flower Extract, Cymbopogon Schoenanthus Extract, Rubus Idaeus (Raspberry) Fruit Extract, Rubus Fruticosus (Blackberry) Fruit Extract, Euterpe Oleracea Fruit Extract, Vaccinium Myrtillus Fruit Extract, Vaccinium Macrocarpon (Cranberry) Fruit Extract, Ribes Nigrum (Black Currant) Fruit Extract, Vaccinium Angustifolium (Blueberry) Fruit Extract, Panthenol, Allantoin, Betaine, Ascorbic Acid, Sodium Citrate, Hydroxyethylcellulose, Polyglyceryl-4 Caprate, Disodium EDTA, Hydroxyacetophenone, 1,2-Hexanediol, Parfum
Pomegranate: Aqua (Water), Glycerin, Methylpropanediol, Punica Granatum (Pomegranate) Fruit Extract, Soluble Collagen, Salvia Officinalis (Sage) Leaf Extract, Lavandula Angustifolia (Lavender) Flower Extract, Rosmarinus Officinalis (Rosemary) Extract, Chamomilla Recutita (Matricaria) Flower Extract, Cymbopogon Schoenanthus Extract, Rubus Idaeus (Raspberry) Fruit Extract, Rubus Fruticosus (Blackberry) Fruit Extract, Euterpe Oleracea Fruit Extract, Vaccinium Myrtillus Fruit Extract, Vaccinium Macrocarpon (Cranberry) Fruit Extract, Ribes Nigrum (Black Currant) Fruit Extract, Vaccinium Angustifolium (Blueberry) Fruit Extract, Allantoin, Betaine, Ascorbic Acid, Sodium Citrate, Hydroxyethylcellulose, Polyglyceryl-4 Caprate, Disodium EDTA, Hydroxyacetophenone, 1,2-Hexanediol, Parfum
Pineapple: Aqua (Water), Glycerin, Methylpropanediol, Ananas Sativus (Pineapple) Fruit Extract, Aloe Barbadensis Leaf Extract, Salvia Officinalis (Sage) Leaf Extract, Lavandula Angustifolia (Lavender) Flower Extract, Rosmarinus Officinalis (Rosemary) Extract, Chamomilla Recutita (Matricaria) Flower Extract, Cymbopogon Schoenanthus Extract, Rubus Idaeus (Raspberry) Fruit Extract, Rubus Fruticosus (Blackberry) Fruit Extract, Euterpe Oleracea Fruit Extract, Vaccinium Myrtillus Fruit Extract, Vaccinium Macrocarpon (Cranberry) Fruit Extract, Ribes Nigrum (Black Currant) Fruit Extract, Vaccinium Angustifolium (Blueberry) Fruit Extract, Allantoin, Betaine, Ascorbic Acid, Sodium Citrate, Hydroxyethylcellulose, Polyglyceryl-4 Caprate, Disodium EDTA, Hydroxyacetophenone, 1,2-Hexanediol, Parfum
Watermelon: Aqua, Glycerin, Methylpropanediol, Allantoin, Betaine, Citrullus Lanatus (Watermelon) Fruit Extract, Litchi Chinensis Fruit Extract, Salvia Officinalis (Sage) Leaf Extract, Lavandula Angustifolia (Lavender) Flower Extract, Rosmarinus Officinalis (Rosemary) Extract, Chamomilla Recutita (Matricaria) Flower Extract, Cymbopogon Schoenanthus Extract, Rubus Idaeus (Raspberry) Fruit Extract, Rubus Fruticosus (Blackberry) Fruit Extract, Euterpe Oleracea Fruit Extract, Vaccinium Myrtillus Fruit Extract, Vaccinium Macrocarpon (Cranberry) Fruit Extract, Ribes Nigrum (Black Currant) Fruit Extract, Vaccinium Angustifolium (Blueberry) Fruit Extract, Ascorbic Acid, Sodium Citrate, Polyglyceryl-4 Caprate, Hydroxyethylcellulose, 1,2-Hexanediol, Hydroxyacetophenone, Disodium EDTA, Parfum
Best seller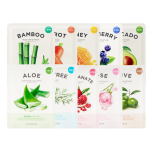 Item:
40007 ,
Qty:
In Stock
18,90 €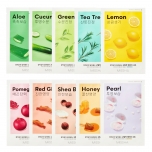 Item:
40073 ,
Qty:
In Stock
17,90 €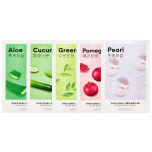 Item:
40108 ,
Qty:
In Stock
9,90 €