UUS RF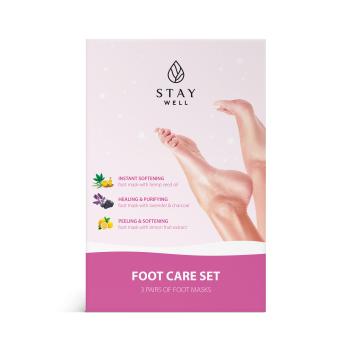 Zoom
STAY Well Instant Softening Foot Mask with Hemp Seed Oil is and intense softening and smoothing treatment for your feet. The completely leakage-free design and the highly elastic two-layers fabric make them easy and comfortable to use. This mask instantly removes dead skin and softens cuticles, while Hemp Seed Oil, Coconut Oil, Olive Oil, and Shea Butter extract hydrate your feet thoroughly.

STAY Well Healing & Purifying Foot Mask is enriched with Charcoal and Lavender, which are very effective at removing impurities and soothing. This mask cleanses and moisturises tired feet, leaving them purified and healthier. The mask package is designed to be completely leackage-free, and the highly elastic two-layer fabric gives your feet comforting feeling, while our special formula soothes and detoxifies your tired feet without any mess.
HOW TO USE 1. Wash your feet with warm water. 2. Open the package and take out the masks. 3. Put on the foot masks and secure them by using the enclosed sticker 4. After 20-30 minutes, take off the foot masks. You don't need to wash your feet again.
STAY Well Peeling & Softening Foot Mask is a pair of wearable mask sheets that exfoliate and soothe your feet. The leakage-free design of the masks makes them effective and easy to use, while the highly elastic two-layer fabric makes it comfortable for your feet. Lemon, Orange, Tea Tree, Honey and other natural botanical extracts remove calluses while Coconut Oil soothes freshly exfoliated skin.
HOW TO USE: 1. After cleansing your feet, open STAY WELL Peeling & Softening Foot mask. 2. Before putting on the mask, fold the upper part of the mask inwards into the inside of the mask. This will prevent the top side of the foot mask being moistened by the liquid. 3. Wear the mask for 60-90 minutes and rinse off with water 4. Calluses will start peeling off in 3 to 5 days after use. Nearly all calluses will be removed in an additiona 4 to five days, depending on their tickness (totally 7-10 days). Do not use a callus remover or try to remove calluses by picking or pulling them when they start peeling off.