This incredible "sparkling" mask by Shangpree is one of the best examples of innovation meeting utility. The convenient sheet mask design packages the cleansing and rejuvenating power of a bubbling, wash-off mask in a simple 1-step ritual you'll want to revisit every day. These micro-bubbles boost circulation, whisk away blackhead producing grime and debris while promoting brighter, clearer skin. Appropriate for all skin types. Ideal for dull/lackluster skin.
THE MUST KNOW 1) Blackberry is incredibly rich in antioxidants, hydrating and rejuvenating skin for a healthier and more youthful look. 2) Carbonated bubbles smoothes the surface of your skin as it gently sloughs away dead skin cells, boosting skin's vitality. 3) Charcoal draws out pore-clogging impurities and excess oil, leaving your skin feeling fresh and clear
How to use: Cleanse and tone your skin. Take out the mask from the packet and place it on your face, aligning holes for eyes and mouth. Leave on for about 10 minutes, allowing bubbles to form and then remove the mask. Gently massage the remaining bubbles into skin and then rinse off with lukewarm water.
Size: 23ml
Water, Glycerin, Cocamidopropyl Betaine, Disiloxane, Dipropylene Glycol, Methyl Perfluorobutyl Ether, Methyl Perfluoroisobutyl Ether, Sodium Cocoyl Apple Amino Acids, Hydroxyethylcellulose, Butylene Glycol, Charcoal Powder, Rubus Fruticosus (Blackberry) Fruit Extract, Propolis Extract, Ethyl Hexanediol, Camellia Sinensis Leaf Extract, Fragaria Chiloensis (Strawberry) Fruit Extract, Rubus Idaeus (Raspberry) Fruit Extract, Vaccinium Angustifolium (Blueberry) Fruit Extract, Punica Granatum Fruit Extract, Disodium EDTA, Sodium Chloride, Hexylene Glycol, Phenoxyethanol, Ethylhexylglycerin, 1,2-Hexanediol, Fragrance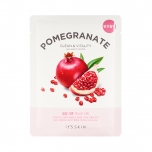 Item:
11332 ,
Qty:
In Stock
1,95 €