It'S SKIN Tiger Cica Red Growl Spot Peeling Pad 60 pcs
Price:
32,90 €
0,55 €/pce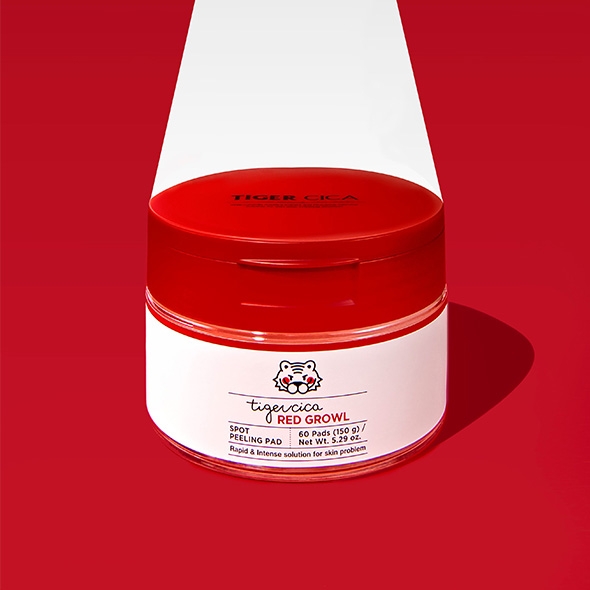 Conquering skin imperfections with a strong Cica exfoliating pad!
Concrete results from the synergetic combination of four exfoliating ingredients.
Integrating first, second, third and fourth generation exfoliators. A high content of AHA, PHA, BHA and LHA to melt down sebum, dead skin and skin troubles.
An ideal solution for pimples on the chest and the back as well as ingrown hair that has developed due to a thick layer of dead skin.
Contains 1% CicaPiroctone™ (Centella asiatica extract + piroctone olamine), an effective ingredient for sebum control, soothing and hydrating the skin.
Contains 3% PimpleTree™ (Red tea tree + salicylic acid), a powerful and instant soothing ingredient for skin troubled with blemishes.
How to use: After cleansing, gently wipe over your face focusing on trouble areas and avoiding the eye area. This product features a powerful exfoliation effect. It is recommended to use it 1–2 times a week.
Quantity: 60 pcs (150 g)
Water, Methylpropanediol, Alcohol, Glycerin, Dipropylene Glycol, 1,2-Hexanediol, Butylene Glycol, Salicylic Acid, Potassium Hydroxide, Centella Asiatica Extract, Allantoin, Polyglyceryl-10 Laurate, Citric Acid, Ethylhexylglycerin, Xanthan Gum, Sodium Hyaluronate, Melaleuca Alternifolia (Tea Tree) Leaf Extract, Disodium EDTA, C12-13 Pareth-9, Gluconolactone, Capryloyl Salicylic Acid, Melaleuca Alternifolia (Tea Tree) Leaf Oil, Piroctone Olamine