Skin rejuvenating and anti-aging mask. Deeply moisturizes the skin and helps maintain the correct pH level. Contains olive oil, green tea, liquorice root extract and many other natural ingredients that combine to reduce the appearance of uneven skin tone and restore youthful beauty and radiance.
Free from parabens. Dermatologically tested.

How to use:
Evenly apply over a dry, cleansed face and leave for 15-20 minutes. Remove and pat any excess serum into the skin.
Size: 20ml
Main active ingredients:
Olive oil deeply nourishes and moisturizes the skin and helps maintain moisture. Olive oil is particularly rich in antioxidants and vitamins.
Liquorice extract contains antioxidants, softens dry and lifeless skin, improves elasticity and prevents wrinkles and has antibacterial action. Helps relieve and soothe irritated skin, redness, rash, itching and swelling. Prolonged use of liquorice extract reduces pigment spots. It regulates sebum secretion in the skin, therefore it is used to relieve acne discomfort.
Green tea is rich in vitamins B, C and E. Green tea is known for its antibacterial and antioxidant properties.
Ginger oil improves blood circulation and relieves muscle and joint pain. Ginger has anti-inflammatory action and reduces wrinkles.
Chinese Lemongrass tones and rejuvenates the skin, stimulates blood circulation and helps fight aging.
Aqua, Glycerin, Dipropylene Glycol, Caprylic/Capric Triglyceride, Methylpropanediol, Propanediol, Olea Europaea (Olive) Fruit Oil, Butylene Glycol, Disodium EDTA, Panthenol, Hydroxyethylcellulose, Polysorbate 60, Carbomer, Triethanolamine, Sodium Hyaluronate, Glyceryl Stearate, Chlorphenesin, Glycyrrhiza Glabra (Licorice) Root Extract, 1,2-Hexanediol, Caprylyl Glycol, Schisandra Chinensis Fruit Extract, Coptis Japonica Root Extract, Zingiber Officinale (Ginger) Root Extract, Camellia Sinensis Leaf Extract, Citrus Grandis (Grapefruit) Seed Extract, Acorus Calamus Root Extract, Perilla Ocymoides Leaf Extract, Tocopheryl Acetate, Parfum
Sale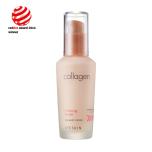 Item:
11213 ,
Qty:
In Stock
Sale