A hydrating body lotion containing Rose Extract and Shea Butter for intense nutrition and hydration.
Main active ingredients:
Shea butter is a nutritious and valuable additive for all moisturizing products, which reduces wrinkles and improves skin elasticity. It also protects against environmental toxins that otherwise cause skin aging. Accelerates blood circulation and promotes oxygen supply to tissues.
Rose water has an antiseptic effect that softens and soothes the skin. Well suited for dry and scaly skin. Restores the natural pH of the skin. Suitable for all skin types.
How to use: After washing, apply a thin layer on the skin and massage gently until the cream is absorbed.
Size: 250ml
Water, Glycerin, CetyliEthylhexanoate, Caprylic/Capric Triglyceride,lCetearyl Alcohol, Dimethicone,iCetearyl Olivate, SorbitanlOlivate, Glyceryl Stearate,iPEG-100 Stearate, ACRYLATES/Cl10-30 ALKYL ACRYLATEiCROSSPOLYMER, Butyrospermum Parkiii(Shea) Butter, RosaiCentifolia Flower Water,iXanthan Gum, 1,i2-Hexanediol, Ethyl Hexanediol,iTriethanolamine, Disodium EDTA,lFragrance.
Item:
12225 ,
Qty:
Out of Stock
9,90 €
Item:
12224 ,
Qty:
Out of Stock
9,90 €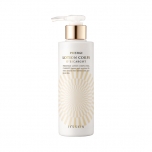 Item:
12210 ,
Qty:
Out of Stock
24,90 €