Sale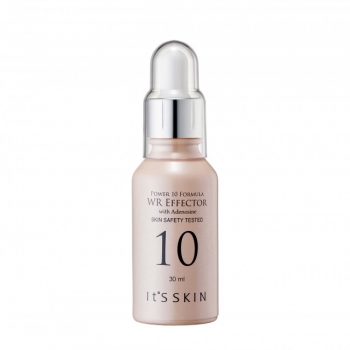 Zoom
A super lightweight skin serum designed to diminish the appearance of fine lines and wrinkles. Created to tackle some of the most common skin complaints that come with aging, the It's Skin Power 10 Formula WR Effector is a must-have for maturing complexions. The rich formula features a blend of effective natural ingredients that work in synergy to reduce the appearance of fine lines and wrinkles, leaving skin with an effortlessly luminous glow.
Main active ingredients:
Adenosine

is widely used in skin rejuvenating cosmetics, inhibiting skin aging processes.

Caviar extract is rich in nutrients, moisturizes and smoothes the skin

. The combination of adenosine and caviar extract gives skin tone, helps to synthesize collagen and elastin that tighten the skin.

Silicornia herbacea/salt grass improves hydration and locks in moisture, resulting in good skin tone.
Woodwort extract has a soothing effect on the skin, reduces irritation caused by pimples.
How to use: Apply 2-3 drops of fountain filler to clean face. Gently pat into skin until fully absorbed. Follow up with moisturizer of choice.
There are 13 highly concentrated effectors (serums). Each one is formulated with specific ingredients designed to tackle a distinct skin concern, such as hyperpigmentation, discoloration, oily skin, large pores, skin aging, etc. Below is a chart with more information on each effector.
About serums:
Serums are skin care products that are effective due to their high concentration of active ingredients. Due to the high concentration of active ingredients, it is common for serum to contain only a few active ingredients that intensively nourish deep skin layers.The texture of the serum is oil-free, allowing them to penetrate the skin's top layers. The skin does not become greasy and therefore also allows for post-serum cream application if desired. Your skin does not necessarily need to be creased after using the serum. Because the serum contains a lot of active ingredients, the use of serum results in more visible results compared to conventional moisturizers or other cosmetic products.
Size: 30ml
Water, Butylene Glycol, Glycerin, Polyglutamic Acid, Salicornia Herbacea Extract, Viscum Album (Mistletoe) Leaf Extract, Caviar Extract, Dipropylene Glycol, Ethyl Hexanediol, Triethanolamine, Carbomer, Ethylhexylglycerin, Acrylates/C10-30 Alkyl Acrylate Crosspolymer, Caramel, Fragrance, Adenosine, Disodium Edta
Sale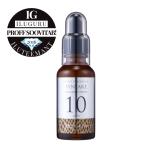 Item:
11209 ,
Qty:
In Stock
Sale