Make-up cream that smoothes and reduces uneven skin tone. Lightweight texture, easily absorbed by the skin. Gives a silky smooth, natural and radiant finish. Contains green tea and pomegranate extract, hyaluronic acid and shea butter to moisturize, soften and soothe the skin. Effective UV protection (SPF 50+ PA +++) prevents premature skin aging and pigmentation. Extends make-up stability.
The innovative packaging ensures a comfortable and hygienic use. When opening the package, remove the protective sticker. Press gently on the carton until the desired amount of make-up cream comes out on the tray. Gently apply the foundation with a sponge. Clean the sponge.


Main active ingredients:

Green tea is rich in vitamins B, C and E. Green tea is known for its antibacterial and antioxidant properties.
Shea butter is a nutritious and valuable addition to all moisturizing products that reduce wrinkles and improve skin elasticity. It also protects against environmental toxins that otherwise cause skin aging. Speeds up blood circulation and promotes oxygenation of tissues.
Hyaluronic acid is a naturally occurring acid in the skin that makes it smooth and wrinkle-free. In addition, hyaluronic acid protects the skin from the effects of free radicals and stimulates skin renewal processes. As you age, the amount of hyaluronic acid in the skin decreases, wrinkles appear, the skin becomes drier and loses its youthful tone and elasticity. Hyaluronic acid reduces moisture evaporation in the skin, promotes the synthesis of collagen and elastin, and protects the skin from UV radiation.

Grapefruit Extract

tones and maintains moisture in the skin. Helps to cleanse oily, congested and acne skin.
Color: Light beige
How to use:
1. Apply onto puff and smooth along the texture of skin.
2. Then, pat to increase adherence.
Size: 16g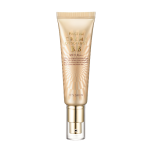 Item:
11105 ,
Qty:
In Stock
32,90 €