It'S SKIN Hyaluronic Acid Moisture Cream Duo Set
Price:
39,90 €
532,00 €/l
Hyaluronic Acid Moisture Cream Duo Set includes: Hyaluronic Acid Moisture Cream 50ml + Hyaluronic Acid Moisture Eye Cream 25ml
It's Skin's Hyaluronic acid is a moisture-binding humectant that plumps skin with lasting hydration and optimizes collagen levels for younger appearance. This Hyaluronic Acid Moisture creams provides intense moisturization and leaves your complexion glowing. Infused with Centella extract which has a soothing effect and Acerola that makes skin look pure and healthy. Does not contain parabens.
Hyaluronic Acid Moisture Cream has a relaxing and cooling effect. It takes care of sensitive eye rims and makes them look fresh and healthy. Delivers major moisture to your skin with its star ingredient, Hyaluronic Acid Adds life to dull and stressed skin. Has calming and soothing effects. Provides long lasting moisturization.
Cream- How to use: Take sufficient amount, and gently spread over face morning and night.
Eye Cream- How to use: After cleansing, apply an appropriate amount to the skin around the eyes. Gently pat the product into skin until fully absorbed. Use in the morning and at night.
Skin type:
Suitable for any skin type
In 2014, It'S SKIN won the Hyaluronic Acid Series International Design Award "Red Dot"
Main active ingredients:
Hyaluronic acid is a natural acid in the skin that makes it smooth and wrinkle free. In addition, hyaluronic acid protects the skin against the damaging effects of free radicals and stimulates skin renewal processes. As you age, the amount of hyaluronic acid in the skin decreases, wrinkles begin to develop, the skin becomes drier and loses its youthful tonality and elasticity. Hyaluronic acid reduces the evaporation of moisture in the skin, contributes to the synthesis of collagen and elastin and protects the skin from UV radiation.
Acerola cherry is a fruit with a very high natural vitamin C content. Has a strong antioxidant and skin soothing effect. Also contains vitamins A and B. Stimulates collagen production and helps maintain the youthful appearance of the skin.
Blueberry contains a wealth of vitamins C and E, antioxidants, amino acids and fatty acids. It nourishes, moisturizes, softens, narrows pores and smoothes wrinkles.
Hibiscus moisturizes and improves skin condition, regulates sebum production. Contains antioxidants and has anti-aging effects.
Portulaca contains vitamins, nutrients and an amino acid that exfoliates, softens, rejuvenates and wrinkles the skin. Helps relieve skin irritation.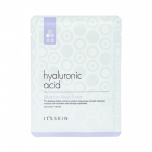 Item:
11395 ,
Qty:
In Stock
2,20 €