Best seller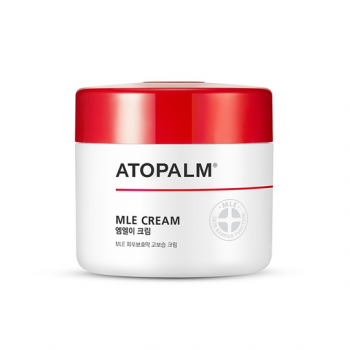 Zoom
Moisturizer for Face: Dry Skin & Sensitive Skin
Atopalm Intensive Moisturizing Cream is a unique, paraben-free facial and body cream for sensitive skin and dry skin, created with Atopalm's patented MLE technology. It contains plant-derived ingredients which mimic the structure of the natural skin lipids, thereby aiding their replenishment in the stratum corneum. This dry or sensitive skin cream helps to restore the skins' protective moisture barrier, leading to softer skin. Our sensitive and dry skin cream for face and body also helps prevent the over-evaporation of the skins' own moisture and protects the entire face from environmental stresses.
This product was a part of a clinical study in early 2019 with UCSF based around the beneficial ratio of three types of lipids (cholesterol, free fatty acids, and ceramides) that are vital for skin health.
How to use: After cleansing with Facial Cleansing Foam, apply all over dry areas. Use as often as necessary, paying special attention to those stubborn, troublesome dry spots on elbows, knees and heels.
Size: 65ml

Water/Aqua, Glycerin, Propanediol, Myristoyl/palmitoyl Oxostearamide/arachamide MEA, Caprylic/capric Triglyceride, Cetearyl Alcohol, Glyceryl Stearate, Polyglyceryl-10 Distearate, Vitis Vinifera (grape) Seed Oil, Sorbitan Stearate, Portulaca Oleracea Extract, Dimethicone, Hydrogenated Vegetable Oil, Olea Europaea (olive) Fruit Oil, Tocopheryl Acetate, Simmondsia Chinensis (Jojoba) Seed Oil, Sodium Hyaluronate, Phytosterols, Carbomer, Caprylyl Glycol, 1,2-Hexanediol, Arginine, Stearic Acid, Allantoin, Fragrance, Tropolone